FAQ
Our answers to frequently asked questions.
1. Is it possible to convert an existing liquid cleaner into a tablet or powder product?
Generally, it is possible to convert a liquid cleaner into tablets or powder. For this task, it is required to look at each case individually. Not all liquid ingredients can be replaced by a solid form and not every concentration of the ingredients is possible in a tablet. If it is not possible to convert your product into tablets or powder, we will be happy to develop an alternative product for you.
2. Does Oxytabs offer any standardized products and conditions?
Being a true Private Label producer, we develop a tailor-made product for each customer and do not offer any standard products. This means that we develop your individual product in close cooperation with you from chemicals to packaging. After having completed the development of the ready-for-sale product, you are going to receive our offer.
3. Are there minimum order quantities?
Yes, there are. The minimum purchase quantities depend on the product itself, the packaging type, and other parameters.
4. When will the first delivery take place?
This depends on the individual conditions and a lot of parameters as e. g.  formula and packing development time, availability of raw materials, or delivery time of packaging materials. The time between the first inquiry and product launch may vary between a few months and more than a year.
5. Which registrations are required and does Oxytabs take care of them?
Which registration is required, depends on the product type. For Germany, standard cleaning products are registered via the PCN method at ECHA and a Poison Emergency Call Center. We take care of these registrations.
6. What about labeling of the products?
The products are subject to a variety of regulations such as CLP Regulation (EC) No. 1272/2008 or Regulation on Detergents (EC) No. 648/2004. We will be happy to advise you on the labeling requirements for the product we have developed for you.
7. How is the performance of the products?
As individual performance depends on the product and its ingredients, it is impossible to answer this question in general terms. To protect resources and the environment while aiming at maximum efficiency and effectiveness, Oxytabs follows the principle: "as much as necessary, but as little as possible."
8. What is meant by biological degradability?
A chemical is biodegradable if microorganisms can decompose it within an indefinite period of time. Biodegradability can only be determined for pure organic substances. However, descaling and cleaning agents are mixtures of various organic and/or inorganic substances.
Information on biodegradability given on the packaging are not subject to any legal regulation in Germany and should therefore be considered as an advertising statement.
9. Are the Oxytabs products biodegradable?
The biodegradability depends on the desired composition and performance of the product. We determine the biodegradability of our Oxytabs products by calculating the percentage of ingredients which are organic and biodegradable in relation to the total quantity of organic ingredients of the descaling or cleaning agent. Thus, the biodegradability of a product can reach a maximum value of 100%.
10. Is it possible that a cleaning agent is ecological and high-performing?
Yes, ecological cleaning agents may be high-performing. Stronger ingredients may be required for specific cleaning demands. Furthermore, dosage and frequency of use affect performance and sustainability.
11. Which laboratory tests does Oxytabs perform?
In our in-house laboratory, we offer various tests, e.g.
Determination of product performance (according to "German Cosmetic, Toiletry, Perfumery and Detergent Association" methods (IKW) as well as further internal methods)
Determination of the microbicidal effect of cleaning agents (according to DIN EN)
Determination of biodegradability
Test on oxidizing properties (according to UN regulations / Regulation (EC) No 440/2008)
Microscopy (metallurgical)
Skin corrosion test (according to OECD)
Storage stability tests under climatic and vacuum conditions
Atomic Absorption Spectrometry (F-AAS)
And many more
Many of these tests are required and already carried out during product development. If you need a test we do not offer, we are happy to hire an external laboratory charging you the costs incurred.
12. What are surfactants?
Surfactants are surface-active substances reducing the surface tension of water. Thus, dirt particles are easier to remove, being bound by the surfactants. There is a range of surfactant types differing in characteristics such as foaming or biocidal effects.
13. What are blisters?
A blister is a transparent product packaging that makes it possible for the user to see the tablets while they are still in their packaging and to remove them one by one. The tablets are packed in a molded plastic part which is closed by a heat-sealed foil. This type of packaging ensures the highest product protection possible.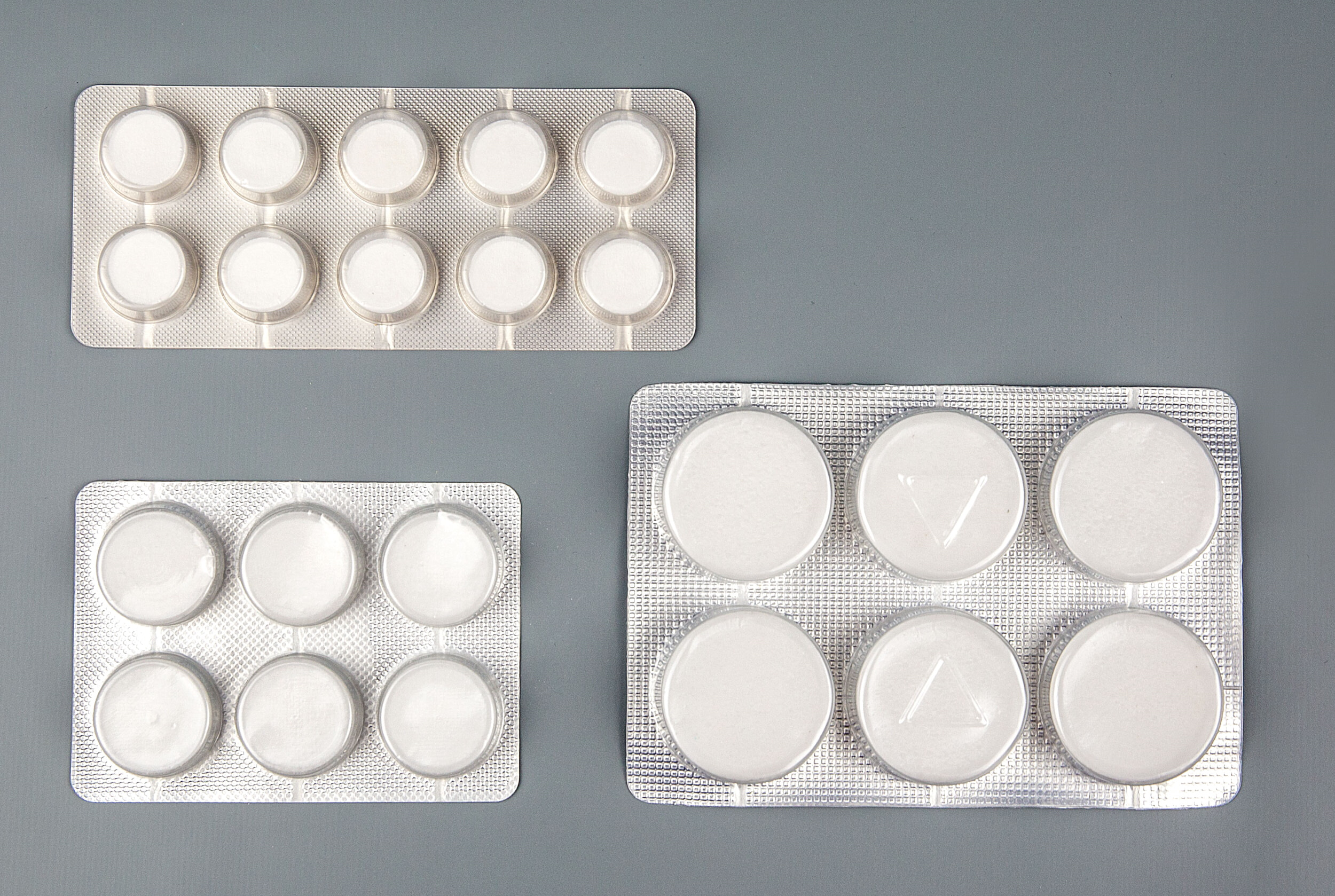 14. What are stick packs or flow packs?
A stick pack or flow pack is a tube-shaped bag for single-portion packaging of powders, granules, or tablets. We work with various foil materials such as recyclable paper, OPP (oriented polypropylene), or composite materials.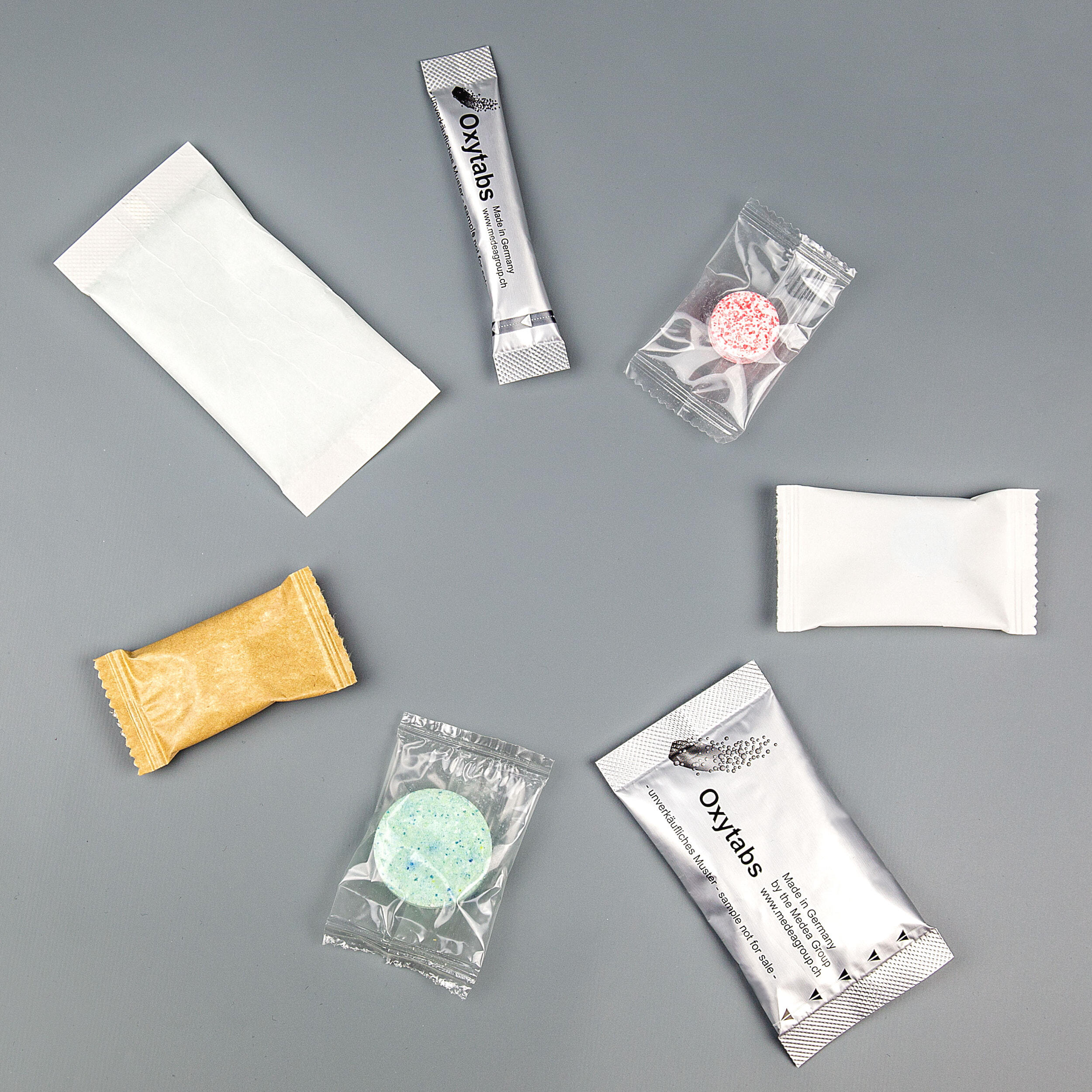 15. Which certificates does Oxytabs hold?
To ensure high product quality and satisfaction of our customers, we are audited and certified to ISO 9001:2015, GMP (Good Manufacturing Practice), and GMP+FSA standards at regular intervals. Please view and download our certificates here.