FAQ
Our answers to frequently asked questions.
1. Can an existing liquid cleaner be converted to tablet or powder form?
Generally, it is possible to convert liquid detergents into tablets or powders. However, whether all liquid ingredients can be converted into a solid form and what concentration of the ingredients is possible must be checked individually. If necessary, we are happy to offer you an alternative.
2. Are there standard products and conditions?
As a purely private label company, we develop tailor-made products for each of our customers. In this way, we develop your individual product together with you, from the chemistry to the packaging. As soon as the development of the ready-to-sell product has been completed, you are going to receive an offer from us.
3. Are there minimum purchase quantities?
Yes, the minimum purchase quantities depend on the product itself, the type of packaging, and other factors.
4. When can the first delivery be expected?
This is very individual and depends on many factors, such as the development time, the availability of raw materials, or the development and delivery capability of packaging material. The period between inquiry and first delivery can last from a few months to more than a year.
5. Which registrations are necessary and does Oxytabs take care of them?
Which registrations are necessary depends on the respective product. In Germany, product registration with the Federal Institute for Risk Assessment (BfR) and the poison control center is sufficient for classic cleaning agents. We take care of both for you.
6. How are the products labeled?
The products are subject to various regulations, such as the CLP Regulation (EC) No. 1272/2008 or the Detergents Regulation (EC) No. 648/2004. We would be happy to provide you with a labeling recommendation for the products we have developed for you.
7. How effective are the products?
The effectiveness depends heavily on the product and its composition and cannot be generalized. To protect resources and the environment in the best possible way and at the same time achieve a high level of effectiveness, Oxytabs develops according to the premise "as much as necessary, as little as possible".
8. What does biodegradability mean?
A chemical is biodegradable if it is completely decomposed by microorganisms within an indefinite timeframe. The biodegradability can only be determined for pure, so-called organic substances. However, descaling or cleaning agents are mixtures of different organic or inorganic substances. Information on their biodegradability on the packaging is not subject to any legal regulation in Germany and is therefore to be regarded as advertising.
9. Are Oxytabs products biodegradable?
The biodegradability of the products depends on the desired composition and performance of the product. At Oxytabs, we determine the biodegradability of our products by calculating the proportion of organic and biodegradable ingredients in relation to the total amount of organic ingredients in the descaling or cleaning agent. It can be up to 100%.
10. Can a cleaning agent be ecological and at the same time have a high performance?
Ecological cleaning agents can achieve good cleaning performance. For specific cleaning needs, stronger ingredients are sometimes necessary. In addition, the dosage and frequency of use of a cleaning agent influence its performance and sustainability.
11. What laboratory tests does Oxytabs perform?
In our in-house laboratory, we offer various tests, e.g.
Determination of product performance (according to IKW and internal methods)
Determination of the microbicidal effect of cleaning agents (according to DIN EN)
Determination of biodegradability
Fire promotion test (according to UN regulations), (metallurgical) microscopy
Skin corrosion test (according to OECD)
Storage tests under climatic conditions and vacuum
Atomic Absorption Spectrometry (F-AAS)
and much more
Many of these tests are applied during development. If tests are desired that we cannot offer ourselves, we will be happy to take care of the processing and can commission them for a fee.
12. What are surfactants?
Surfactants are washing-active substances that reduce the surface tension of the water. This makes it easier to loosen dirt and the dirt particles are bound. There are different types of surfactants with different properties such as strong foaming, biocidal effects, and much more.
13. What is a blister?
A blister is a product package that allows the packed tablets to be seen and removed one at a time. The tablets are placed in a molded part made of plastic film, which is welded to a film. In this way, the tablets are protected in the best possible way.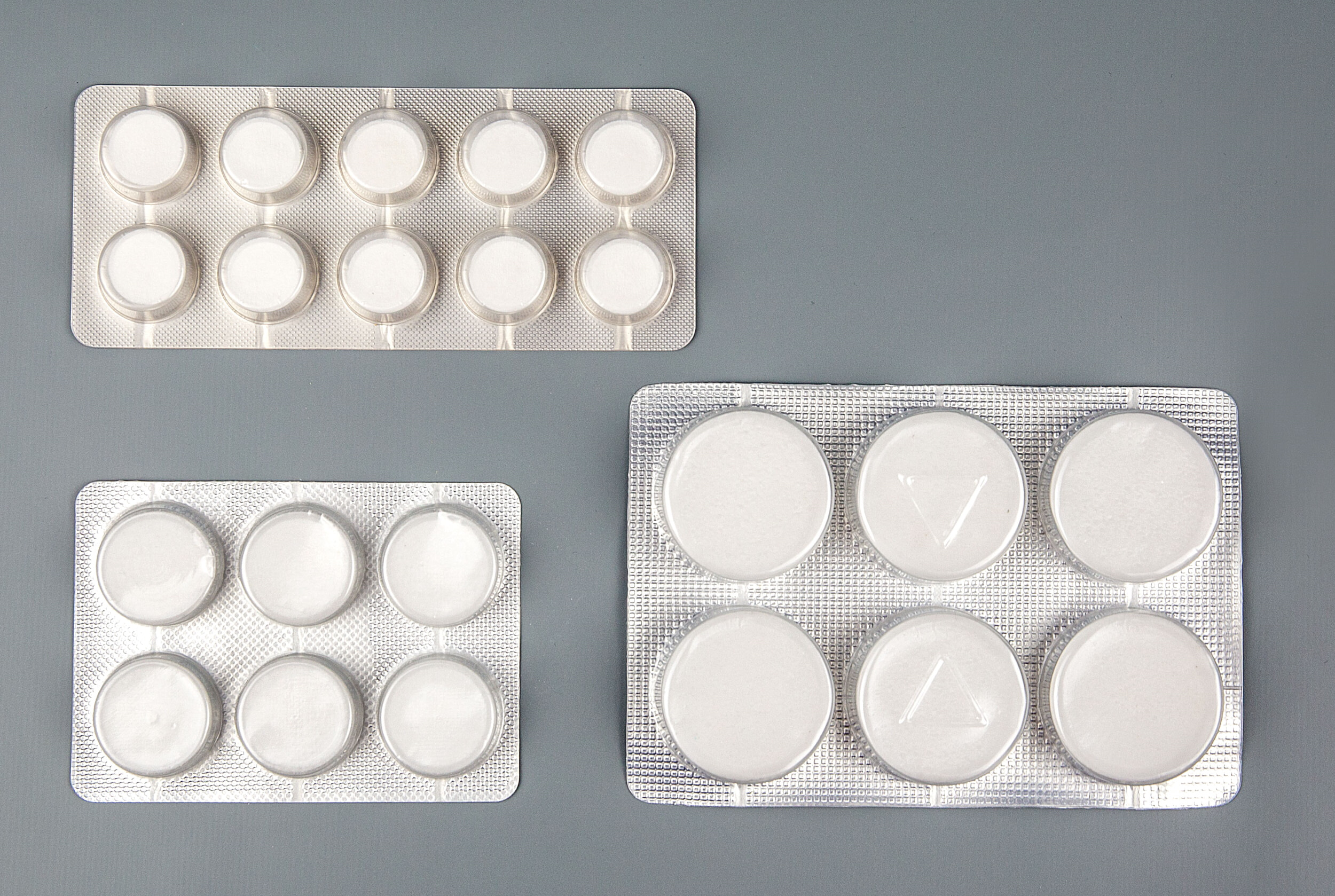 14. What is a stickpack or flowpack?
A stick pack or flow pack is a tubular bag that is used as a portion pack for powder, granules, or tablets. We process various foil materials such as recyclable paper, OPP (Oriented Polypropylene), or laminates.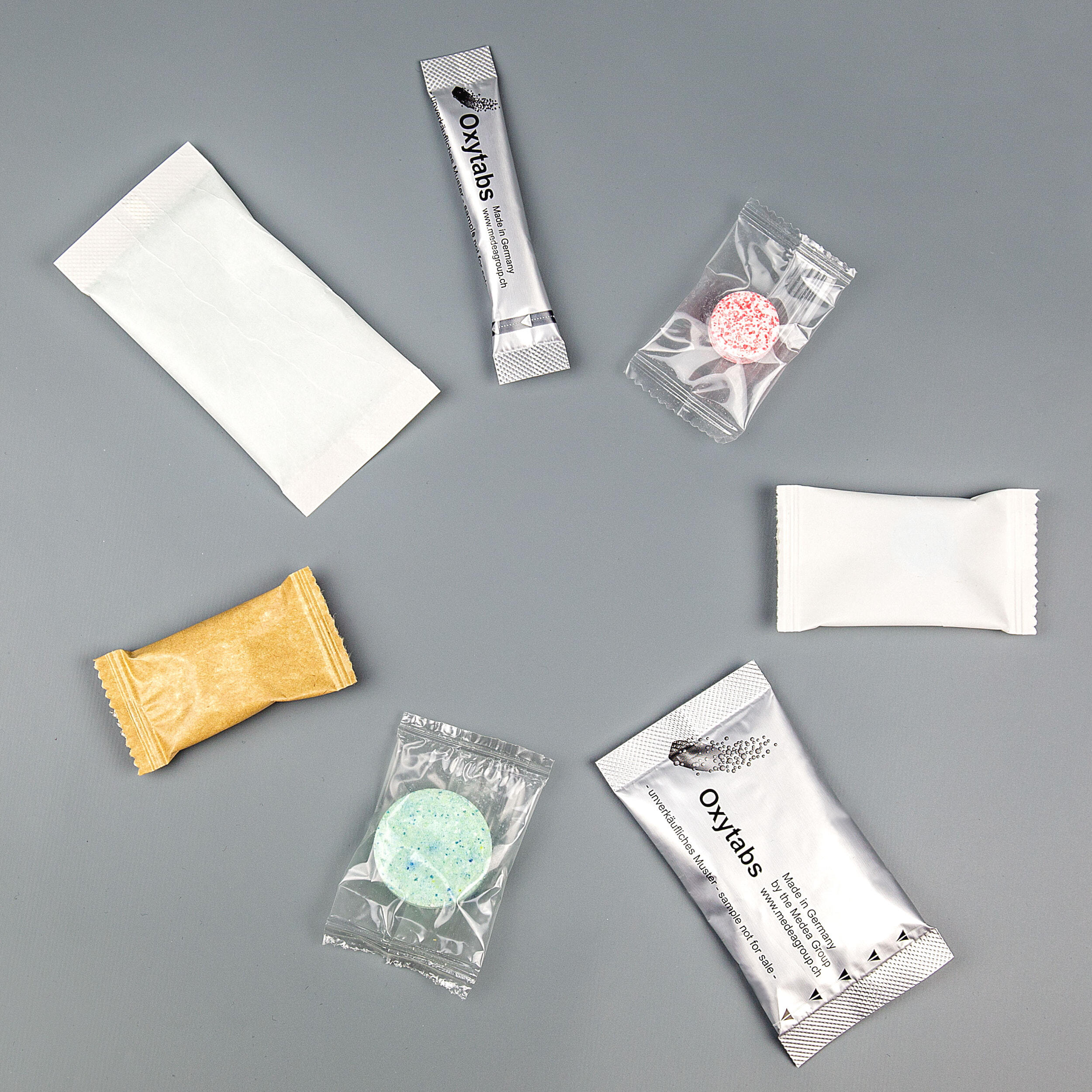 15. Which certificates does Oxytabs have?
To ensure high quality and thus the satisfaction of our customers, we are regularly audited and certified according to the ISO 9001:2015, GMP (Good Manufacturing Practice), and GMP+FSA standards. You can view and download our certificates here.